Mobile Monday Tokyo Demo Night Video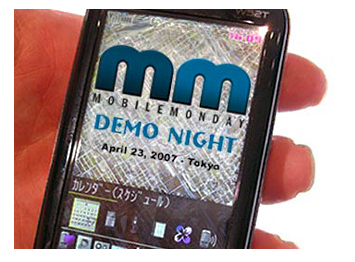 The recent MoMo Tokyo event, held 23 April at KDDI's Designing Studio, featured a mobile mash-up of presentations in the super-cool Demo Night format – which has been popular in other chapter cities. For Demo Night, a line-up of interesting mobile companies were allowed a 5- to 7-minute show & tell session for their mobile content or service offering – displayed on an actual handset and projected on the big screen for all to see. The web video of these presentations are now on online here.
Tracey Northcott, VP at Enfour Group demonstrated Camera Jiten a native Brew dictionary application for instant scanning of English words giving their Japanese translations. Mandali Khalesi, CEO of Naviblog, showed-off how to find the closest Guinness with your mobile phone. David Collier, founder and CEO of Pikkle, demonstrated a new type of full-screen mobile flash service they provide to enable rich social networking. Nobuyoshi Noda, Mobile Division Deputy GM of Adways, gave an overview of the Mobile Affiliate Advertisement Smart-C product. Tim Smith, Director of Freeverse Consulting, introduced Malibu IVP, a middleware approach to creating useful and viable 3G videocall applications and Hiroshi Oda, VP Corporate Communications from CIAJ, announced that CEATEC JAPAN 2007 will launch a new special exhibit area under the theme of Digital Contents for their annual trade-show in October.
— WWJ Editors