KDDI Opens Hip Harajuku Design Studio
KDDI has opened an Alpha Pup playland right in the heart of Tokyo youth trend fashion central — Harajuku. Five floors of interactive phone action and event space, KDDI Designing Studio sits strategically at the mouth of Takeshita Dori at one of the area's busiest intersections.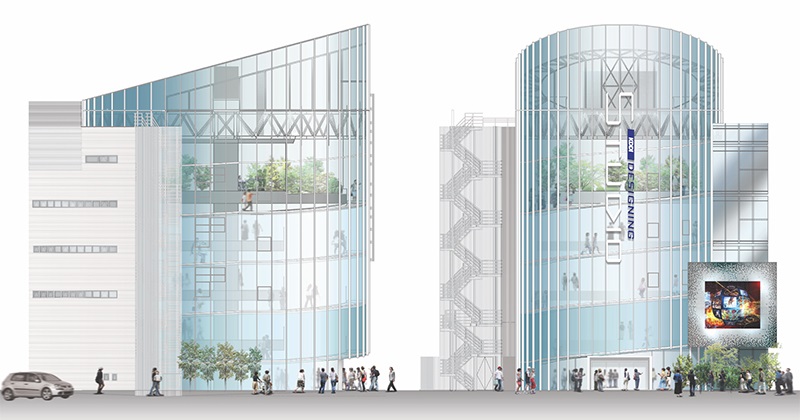 At the ribbon-cutting ceremony on 3 March, we listened to KDDI's President Tadashi Onodera describing the strategy behind the choice of locations, saying the company has to synch with the needs and wants of its customers and their changing lifestyles: "It is Harajuku that draws the opinion leaders of Japan's youth culture." Youth culture is a prime focus for Japan's top 3G provider. Their Chaku Uta Full music download system and EZ Game Street mobile gaming portal are exactly what the pediatrician ordered for young mobile slackers looking for portable fun. The company hopes a flood of trendy pop princes and princesses will wash through Designing Studio's sliding glass doors, reaching out for KDDI's cutting-edge techno fun as they flow on through.
Despite KDDI's youthful vision, the company deliberately created Designing Studio as a full-access venue for every sort of visitor. The building spirals up five floors from an airy central atrium; instead of steps or escalators, a gentle wheelchair-friendly sloped ramp runs in wide circles around the outer perimeter of each floor right up to the 5th floor café. (There are elevators as well.) Information desks on each floor are equipped with writing boards for visitors with hearing or speech disabilities. They write their question down and the staff can write an answer back.
On the first floor, an amphitheater-style event space framed by a large screen will host regular live music concerts and performances plus video and music programming from a see-through broadcasting booth, which runs all day.
On the 2nd floor, new KDDI handsets are showcased — as is mucho phone-based fun. Visitors can sit at one of several work stations (chairs slide out to accommodate wheelchairs) to create a photo content card that lets them explore different KDDI contents; they save their creations in a QR link on the back of the card for play later. One station hosts an animated message maker that takes a viewer's photo and pastes it into any of a selection of wacky animated 'toons. Users can then send the message to a Japanese mobile or net address. There is also access to KDDI's au auction site for some e-commerce cruising.
More fun is to be had on the 3rd floor — including previews of special hybrid PDA/mobile/PC handsets that will be showcased at the Aichi Expo. Sure to have a long line is the MYSQ (pronounced 'misk') Box. It's a sort of wacky movie-meets-print-club-Dance-Dance-Revolution game that saves as a 30-second movie of you and a friend spazzing out in living color for your phone.
Seminars and meetings are scheduled for the fourth floor but what may bring repeat visitors back again and again is the 5th floor Wired Café with its panoramic view of the Takeshita Dori end of Harajuku and beyond. The place has a range of coffees, drinks and snacks, outdoor terrace and five free online terminals which you can use for up to an hour.
Rival DoCoMo does not yet have anything as sophisticated as this browsing space for the public. Their DoCoMo Town in the dreary Gulag of Tokyo's Aoba Telecom Center hardly counts as it is designed as a tiny phone theme park for the elementary school set (get them while they're young), which they siphon off from tours to the nearby science museum.
KDDI has certainly got an engaging mix of public spaces and pretty faces (male and female) on hand in the Designing Studio and its navigation staff (as they call the employees) dressed in United Arrows – brand uniforms (it's a big name here). The building is sure to draw crowds of curious locals and tourists from all over looking to fast-forward their fun on the run. To paraphrase Kyocera President Yasuo Nishiguchi's comments during the opening ceremony, KDDI Designing Studio will answer needs consumers don't even know they have yet.
— Gail Nakada
**Update: See our KDDI Designing Studio: Video Tour here