DoCoMo R&D labs LTE-Advanced field trial shows 600Mbps downlink, moving at 10km, targets deployment 2015 http://bit.ly/14XcgXe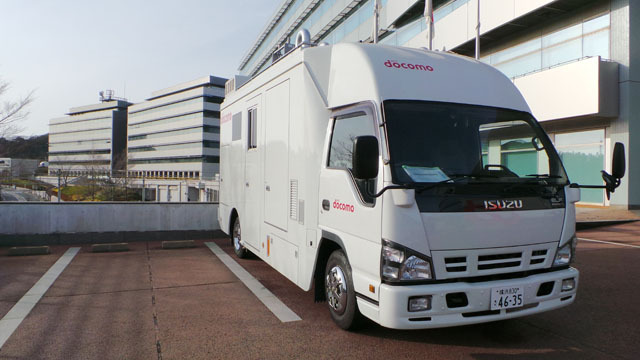 Machine Translation:
NTT DoCoMo has started from 2011 field trials put out a communication speed of 1Gbps class of "LTE-Advanced" already. 22 days, the NTT DoCoMo has released to journalists for the state of the field trials at DoCoMo R & D Center in Yokosuka, Kanagawa Prefecture.  The pilots of the LTE-Advanced, other communication experiment has been carried out such apparatus that serves the terminal and the base station apparatus to the indoor is installed far, and field tests while moving by mounting the device on the experimental vehicle has conducted.
In the experiment the indoor antenna and assuming the base station, and performs communication between the antenna of assuming the terminal, it was verified and its radio characteristics and communication speed. Also in communication experiments while moving using the experimental vehicle, and those of seeing the status of the communication while traveling at 10km per hour outdoors. Communication speed has been able to measure the transmission speed of 600Mbps even before and after this.  Elemental technologies "carrier aggregation (CA)" and is incorporated in the LTE system. This is a technology that can communicate communication one user even across multiple frequency bands.
LTE-Advanced is aimed to provide services beginning in FY 2015 are located at a category of higher further, specifications of up to put out if used in the corresponding terminal, but even in LTE terminal that does not support the Advanced, it is available at the specifications of the current LTE.  In all cases, while glare specifications of these network technologies, device manufacturers will place that working on the design of the supported terminal. It's the place where content and terminal features, such how the application will go is deployed on mobile communication services that can communicate with high-speed, high-capacity further, dream spreads greatly. Full article in Japanese here.
Related posts: