Start 'em young! LINE adds Kids Video offering 1,500 programs, on iPhone, w/droid soon, 40mins daily free http://bit.ly/1iju3Ka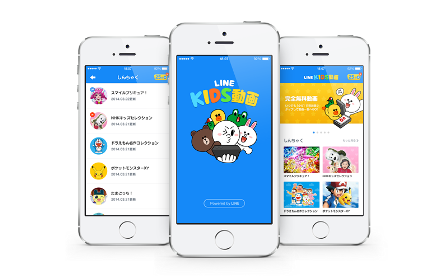 Machine Translation
I will inform you because today announced that it will begin soon for the iPhone children's video streaming app "LINE KIDS video". Intended for their parents and preschool children of 1 to 6 years of age, the health and safety of 3) children for the price of 2) peace of mind the content of the relief to be able to enjoy 1) parent and child as video streaming application to provide service in the design of the relief that friendly face, we will start the "LINE KIDS video". First, started providing iPhone version soon, and we plan to offer Android version by around spring 2014.
Features of the LINE KIDS video: good content lineup of 28 title 1,500 or more to the center popular characters such as "Doraemon" "Pokemon" and "Pretty", and 28 LINE is selected carefully We provide video content in the title 1,500 or more. Masterpiece that parents and children can enjoy and squadron and series "Kamen Rider Den-O" and "Goonger", work abroad and "Powerpuff Girls" and "SpongeBob", and "Tanoshiimuminikka" and "Anne of Green Gables" In addition, to work to help educational, language and education "CatChat English KIDS!" and "Thomas the Tank Engine", it offers a variety of services when providing a rich lineup. Including "Shimajiro Hesoka", we will continue to gradually expand the lineup in the future.
Related posts: