LINE reports July-September sales at 19.1 Billion JPY, approx. $190M up 48% QoQ, 60% from Games & 20% Stamps: http://bit.ly/19ZzIDM
LINE Corporation, owner and operator of the free call and messaging app LINE, today announced its Q3 (July – September) earnings for 2013. LINE Corporation's revenue for the quarter was 19.1 billion JPY, an increase of 48% over the previous quarter.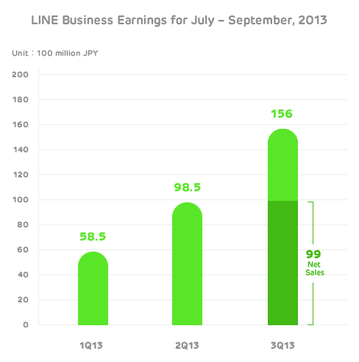 Total revenue for LINE Corporation's core business, LINE, was 9.9 billion JPY, which was calculated as net sales* from gross sales, with gross sales to-date equaling 15.6 billion JPY (an increase of 58.3% over the previous quarter).
Currently, LINE has 280 million users worldwide, and has the largest market share for messaging apps in Japan, Thailand, and Taiwan. LINE GAME currently has 39 titles. New titles are being released this fall from developers in Finland and other European nations. Major titles are planned to be localized into other languages. The stickers business is expanding globally, and now features more than 300 famous characters, along with characters based on major world sports personalities.
Related posts: