Hitachi Launches "Talk Field" a Voice-Based Mobile Social Networking Platform – app developed with BS-TBS: http://bit.ly/18Fmv04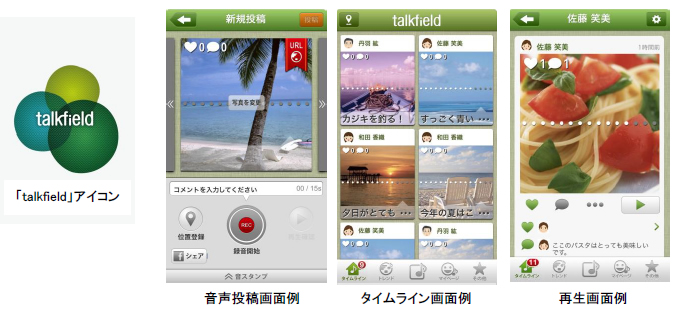 Machine Translation
This time,: (Hiroaki Nakanishi / below, Hitachi, President and Chief Executive Officer) Co., Ltd. BS-TBS Hitachi, Ltd. (President: Kazuo Hiramoto, Head Office: Minato-ku, Tokyo / or less, BS-TBS) and jointly commercialized "talkfield (Talk Field)" on Hitachi voice SNS solutions have advanced, validation, and development of the service model, as a service that can be applied widely in the public sector and social infrastructure companies, education and local government, such as health care, It started offering from August 9 to businesses and organizations.
Hitachi voice SNS solution "talkfield" is a social service that allows users to share voice messages you post through the smart phone application. Hitachi has developed the concept of "communication to the new field in real So" sound ", easily so" voice "" the, to share content users together, "Park", the content only members with a common goal It provides three fields give the message can be shared, "cafe", only to a specific party of "greeting".
For example, by taking advantage of as enterprise SNS, addition to improve operational efficiency by facilitating information sharing in the project inside and outside can be expected, the raw, such as images and talent producer-developer users of company products, the Service Through the voices heard of, different also, as a tool for promotion and advertising, just as you would apply to such as the creation of new products and improvement of the product by feeding back the voice that I try to use the goods of the user (such as impressions) I assume the use of Na. The local governments, also, as a tool to activate the local community that and other school, it is also possible in the event of an emergency such as a natural disaster, to be used as a tool to support the activities and subsequent safety confirmation.
Related posts: