Mapion announces fun mobile-based game with real world location stamps targeting 10k users on two tower teams: http://bit.ly/X77QTN
Looks like great O2O (online to offline) example with game, location & shopping angle.. [Eds]
Machine Translation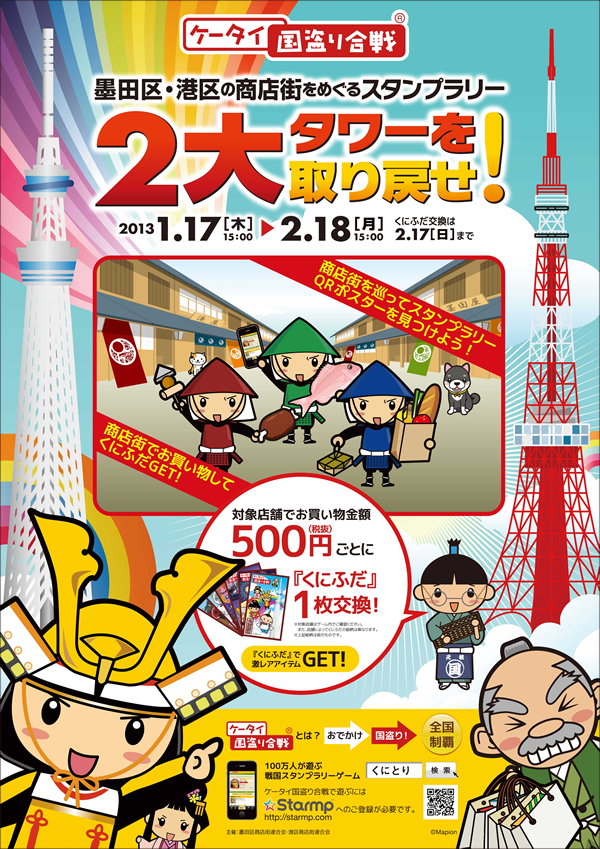 Established last year the Tokyo Sky Tree has become a hot topic and a unique district two towers are built. About the measures that should be spread to local shopping areas that effect, in association mall both in Sumida Ward, the harbor, the voice of a need and planning ideas particular the cooperation with external had been raised. This event, which is deployed as a venue and the Tokyo Tower and Tokyo Sky Tree in Sumida and shopping district, Minato-ku, Tokyo, our story begins with our Fujin and Raijin, but hides the two large towers than force. When the user successfully referred to as "shopping" and "Stamp Rally" at the venue, the specific mission games, you can "catch up" safe tower appeared to be little by little.
Stamp Rally, assumed scale mobilization of 10,000 people. To tour all 57 spots in Sumida-ku Minato, has become what you can rediscover the joys of the city also local people, you can join for free. In addition, in the shop at, shops (431 shops all target number of stores), and then distribute the "shake it country" real card limited benefits "battle mobile country" can be acquired.
"Battle Kunitori mobile", the game is a collection of mobile location information in the form of a number of countries that have dominated the history of the location information when the user is a samurai, actually went to all parts of the country. Based on the belief in that has been receiving a lot of attention with that success stories of business one after another "(Online to Offline) O2O" tie-ups with other industries, would lead to the activation region even now, with local governments of various I will proceed with cooperation. Also this event, we are willing to take advantage of the element that "O2O" of these same games, while liven up the event, you want to revitalize the entire mall. We believe a temporary rather than attract, and if you can build a long-term relationship of both consumers and mall district.
Related posts: