The mobile social networking monster LINE has 20M downloads on their free camera app, plus, Nifty SNS report: http://bit.ly/TQcg3T
Naver keeps on rockin with LINE.. bonus notes on mixi, FaceBook and Twitter in Japan [Eds]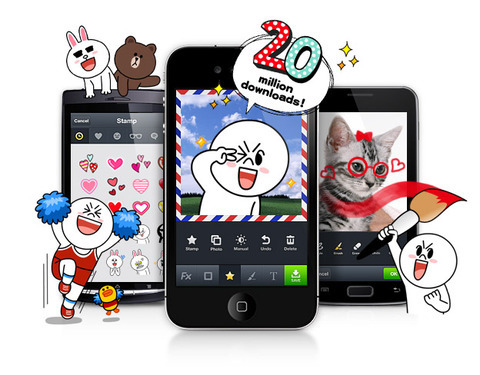 Machine Translation below – the official app page has English version here
NHN Japan announced the total number of camera app download "LINE Camera" for smartphones has reached to 20 million, effective January 11. To date in 14 countries #1 overall ranking Free App Store, in 27 countries worldwide #1 Photography Category App Store, have been #1 in the category photo GooglePlay in 17 countries world-LINE camera.
There are many camera artistic filters and effects and sprinkle the heart or like a handwritten message. You can decorate your photos easily, the stamp variety with popular characters, Cyworld facebook and Twitter, mixi, Sina Weibo, Renren, me2day people that can be shared to SNS.
Also noted this new survey via Nifty – translated below – apparently LINE is a good place to meet the ladies!
11 days, three companies NIFTY Corporation, Ltd. Komuniko, Life Media, Inc. has announced the results of a survey of the use of social media was conducted on 776 men and women who greet the coming-of-age ceremony in 2013. That there were many people who think that there is a high percentage of women love to use, LINE According, it would like to get married in the future.
"Currently, there is a lover," most people (42.4%) answered that the most used social media and LINE, in the proportion of women, who answered mixi and was closely followed by 40.9%. The answer has been, and the woman who answered mixi "have an eligible spouse" is 9.1%, in the presence or absence of a partner was most mixi. On the other hand, "male currently in love" is the percentage of people that use social media is that the most LINE 27.7% was higher in the order of 20% of people who answered Facebook.
Similarly, the percentage of women "in the future, I want to get married," that is, 95.5% of people use social media that the most LINE, 83.7% of people who are true then Facebook. I was answered, "future, I want to get married," In men, 86.2% of people use social media that the most LINE, 82.0% of people say Facebook is.
In addition, "Twitter" social media is that you are the most commonly used in most 42.5%. LINE is below 16.9%, "Facebook" is 13.0%, "mixi", followed by 6.3%. The future you want to use social media, Facebook is the top in 41.3%. The reason is, friends around, for job hunting and coupled with people from all over the world.
Related posts: