A triple shot of articles, via the always interesting folks at RBB Today, to kick-off Wireless Japan news this week http://bit.ly/gtKGVP
Machine Translated
About 7000 Kodansha comics have corresponded to iPad/iPhone
It was announced that that "eBookJapan" began to sell all works of Kodansha selling it with eBookJapan for PC now for iPad, iPhone, and iPod touch. 7,006. 1,589 titles comics of Kodansha delivering it with eBookJapanIt is the first in the industry in the Kodansha work for the iOS terminal of 7000 scale. Sales of the art and literature work (354 titles and present 673) begin for iPad.
Race Queen in 'Circuit clock' Android Application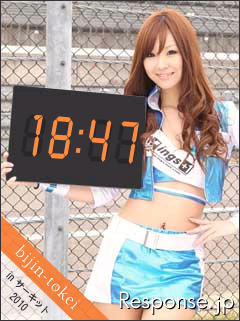 A race queen who was active by 'Super-endurance series' appeared this time in 'Circuit clock' achieved by the collaboration of the website 'Beautiful woman clock' of the topic that the beautiful woman informed them of time and the race queen information portal site 'Q' and the cellular phone application program version.
This application program is 'Circuit version' of DoCoMo, au, and the beautiful woman clock corresponding to three careers of SoftbankIt becomes the third following 'SUPER GT race queen Ver' and 'D1 Ver' put on the market last year. The race queen of a popular series race of the majors four wheels became in the appearance of this 'Super-endurance series Ver' and the cellular phone application program became total appearance, too.
Sensor that judges employee's "Smile Degree" Smile Scanning
Omron exhibited real-time smile degree sensor "Smile scanning" in the international hotel restaurant show and gave the demonstration. It is a system that recognizes my face from the average of the camera image, and measures the smile degree in real time automatically.
The equipment does the recognition distinction to the movement of the corners of the mouth and the corner of the eye etc. seeming see teeth. The smile training mode and the smile degree fighting mode are installed in special software.
The smile degree can be recorded according to the individual, and to preserve the best shot. "The skill can improve by the sense of having become good for yesterday or one week because the point attaches." (explanation member). Use is thought as senior citizen's treatment and rehabilitation supporting tool besides the service trade.
Related posts: